The Pandemic year was hard for recruiters. The epidemic and its ramifications wreaked havoc on some talent acquisition teams, piled new expectations on others, and proved to be a watershed moment for many, as virtually recruiting and onboarding a distant workforce became the norm.
The challenges of 2020 will undoubtedly influence talent adoption patterns in 2021. More businesses will use virtual recruiting tools, focus on diversity, equity, and inclusion, and move their talent acquisition efforts to distant candidates. The greatest recruiters will take advantage of the opportunity to learn new abilities, adjust as needed, and demonstrate their worth to the company.
Virtual Hiring Isn't Temporal
Similar to how a hybrid workplace of present and remote workers will become more common, a recruiting process that combines virtual and in-person interviews will become more common.
In DE&I, Recruiters Will Play a Significantly Expanded Role
Diversity, equality, and inclusion will continue to be a priority for recruiters, particularly as more applicants evaluate a company's visible DE & I ( Diversity, Equity, Inclusion) commitment, according to experts. Data-driven recruiting tools assist to reduce and eliminate prejudice in the selection of candidates, therefore enabling firms to make a meaningful difference in increasing the diversity of their workforce.
An increase in the Amount of Focus on Human-centered AI
In a world in which talent management aims to be ethical and transparent, a "complex mechanical" approach to AI that doesn't reveal how judgments are made is inconsistent. What are the most critical aspects of sophisticated AI systems' dangers and benefits that recruiting teams should be aware of?
Psychometric Evaluation
Psychometric testing assesses a candidate's personality characteristics and other talents to evaluate if they are a suitable match for a certain role. These exams are changing the way firms handle recruiting.
Unlike artificial intelligence-based emotional analysis tools, which some believe are unethical for recruiting purposes, psychometric exams are produced scientifically and are intended to be impartial and impartial.
Psychometric exams assess attributes such as ability, conversational skills, and emotional intelligence, which serve as excellent indicators of a potential employee fit for a certain profession.
According to a poll conducted by the Society for Human Resource Management, around 18 percent of organizations already employ psychometric testing throughout the employment process.
Recruiters' Specific Skills Will Be Expanded
Versatility is the top quality recruiters should adopt in 2021, as shown in a Linkedin poll of over 1,500 talent experts and in-depth discussions with talent executives globally.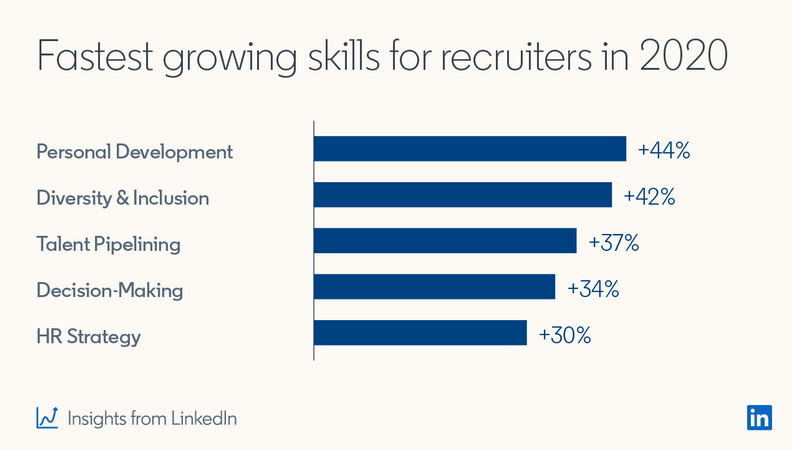 Looking at the statistics, it is noteworthy to observe that among the growing talents of recruiters throughout the epidemic, self-improvement was the highest.
This is unsurprising, considering the difficulties we had last season. Recruiters are fast developing new abilities, such as de-mystifying talent data, redesigning business identity, and fine-tuning the online candidate experience.
Employee Well-being Will Be Talked About A Lot
Well-being efforts have become a necessary component of a company's overall arsenal — not just for finding and keeping the best personnel, but for making it clear that workers' safety and health are of critical importance.
Recruiters should make it a point to speak about these programs to the applicants throughout the selection process so they know what they can anticipate from the workplace.