Employee morale improves when they know they are valued. If you are not using appreciation ideas for employees. You're missing out on a lot of practical advantages.

Making your staff feel valued is more crucial than ever since it has a multiplier effect on engagement, output, and dedication. There are various appreciation ideas for employees you value their efforts and recognize their achievements. If you're struggling to come up with appreciation ideas for employees that show how much you appreciate them, here are several suggestions, ranging from public acknowledgment to thoughtful quotes. Also here is the other blogpost we have published about employee appreciation and recognition ideas.

Feedback Comes first when it Comes to Appreciation Ideas for Employees
Despite how clear it is, not many bosses really tell their employees when they've done a good job. The ancient adage for corporate executives is to criticize employees behind closed doors and publicly laud them. Let your staff know that their hard work has not gone unnoticed and that it will be shown for the rest of the team to see.
If you want your staff to leave each meeting feeling invigorated and encouraged, make sure you take time to recognize those who have gone above and beyond. Too few people realize that basic, easy-to-implement suggestions from individual employees are the most effective method to improve the morale and productivity of a whole organization. A simple expression of appreciation for their hard work might go far more than any of the elaborate employee recognition ideas on our list.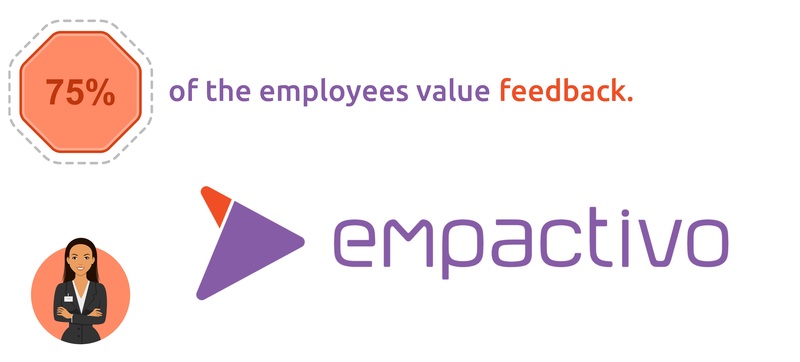 %75 of the employees believe feedback is valuable.

One of the Best Appreciation Ideas for Employees is Publicity
One of the finest appreciation ideas for employees who showed effort is to post examples of their work on a bulletin board, whether it's virtual or physical. There's a reason employee of the month plaques is commonplace in businesses throughout the globe. A public acknowledgment of the team's success is a simple way to show your thanks without breaking the bank.
In turn, this will lead to a more positive and dedicated team environment. Team members and those around you are more likely to continue working hard for you if you give them frequent opportunities to hear when you appreciate the work they've done. Employee morale and productivity may be improved every day with the help of a bulletin board. Even though the price tag is small, the effect is huge.

Provide Incentives: This is one of the Best Appreciation Ideas for Employees
Providing incentives for hard work is one of the best appreciation ideas for employees. These incentives may be provided on a weekly, monthly, or quarterly basis; the important thing is that they are provided regularly. High-quality, useful promotional giveaways are always a welcome gesture. You may choose from an abundance of customized promotional goods to routinely award the finest members of your team, from Bluetooth speakers for your top salespeople to branded suits or spectacles for your office staff. If you provide them with a prize (even if it's as simple as a gift card), it will make them feel valued by their superiors and encourage them to work harder to achieve success.

Invite Them to a Meal
Employees may have mixed feelings about being singled out for praise, which is a challenge when awarding team members. Taking your staff out to lunch is a terrific way to show appreciation for their hard work, especially if they are the kind of people who prefer less public displays of appreciation. They'll feel more invested in the firm as a result of the one-on-one interaction, and that, in turn, will keep them motivated. This sort of personal appreciation experience is highly sought after in today's competitive job market, and a company culture that encourages and supports it will give you a leg up in the war for talent.

Assistance in Obtaining
Prepared meals in the break room are one of the greatest appreciation ideas for employees to consider if they want to express their thanks to a whole team or department. Bring in some food trucks, stock them with people's usual dining room favorites, and give them a respite. You may also choose to have your dinner provided. You may even set up a snack bar with gourmet coffee for your top performers. Free meals are always a great way to show your thanks to your staff.
Social Media Acclaim
Your social media accounts are a fantastic advertising tool, and they also provide an excellent platform for appreciation ideas for employees. Writing an article celebrating their efforts is like shouting it from the rooftops about how much you value them. Because showing consumers what goes on behind the scenes is such an important part of any brand's narrative, this is not only a great way to make staff feel appreciated, but it can also help boost sales and customer retention.

Partying and Other Social Activities
A planned event or night out is one of the terrific appreciation ideas for employees and a magnific way to foster teamwork. Invite a whole company or division out for drinks with the customers, crank up the karaoke, and dance till dawn. You should never discount the importance of a fun team game night. Because those team members will feel like they belong to the corporate family, it is one of the most effective strategies to boost employee engagement. In this age of remote workers, you may even have meetings and parties in the virtual realm. When it comes to ideas for showing thanks to employees, events are right up there.

It's important to demonstrate to staff and collaborators that you value their efforts and time. The finest methods to show your workers how much you appreciate them go well beyond the few we've listed here, so take your time and come up with as many as possible.