Animals but especially dogs in the workplace can be facilitators. Our furry friends make life a happier place for us in our homes. So, some companies are supporting their employees to bring their dogs to the workplace. The pandemic has necessitated a shift in habits and lifestyles toward new social and cultural activities, and smart working is one of the advances presented by the arrival of Covid.
With the advent of "smart working," or working from home, pet lovers may now have their furry companions close at hand.
Because of this, four-legged fathers and moms have been freed of the stress and guilt of leaving pets alone for long periods of time.
With the steady return to the workplace in the presence of four-legged pals, employees are reluctant to give up their canine companions.
Dogs In The Workplace
Founded in 1994 by Patti Moran, the Association has always distinguished out for its dedication to organizing campaigns and activities in favor of animals.
In honor of the International Day of the Dog in the Office, which takes place on June 23rd all around the globe, the tagline "Bring your dog to work" was created.
England, the United States, and Canada are home to the biggest number of establishments that allow dogs to accompany their owners.
Having a dog in the workplace is a decision that is made by each individual company, as well as which regulations to follow.
Companies that cater to pets have the option of reserving accommodations for dogs or creating dog-friendly rooms or gardens where they may wander freely.
The other option is to let dogs in on a leash close to the desk of their human partner rather than separating them.
As long as a set of standards of behavior are followed, all this is possible.
Here are the results of how bringing dogs affects the workplace. This research is made by Elisa Wagner and Miguel Pina e Cunha in 2021.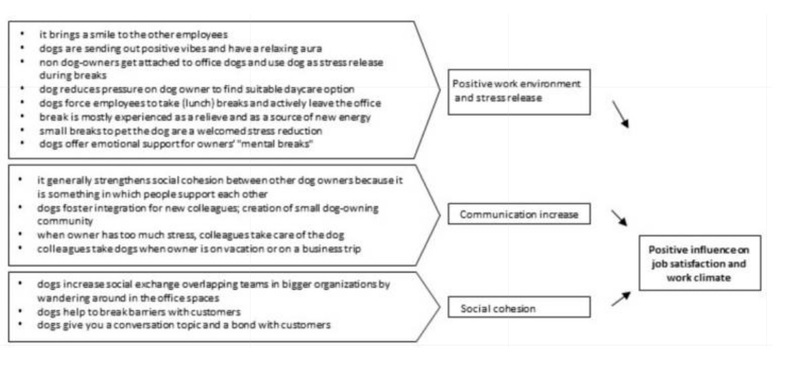 Dogs In the Workplace: Practical Wisdom
A few basic precautions will help keep your dog from ruining your work environment if your employer lets it.
In order to prevent disagreements and even legal issues, it's best to follow a code of behavior that considers the interests of everyone involved, including your dog.
Don't push your coworkers to deal with your dog if they don't appreciate direct touch with animals, the first rule of wisdom to remember.

Always keep your dog on a leash and respect their personal space.
Keep an eye on your dog while it is at the office, and observe whether it is at ease.
Consider your dog's health before choosing whether or not to bring him to the veterinarian's office for a checkup.
The second most crucial requirement is to respect the "off-limits" places. Generally speaking, dogs are not permitted in various areas:
Employees' dining area
Restrooms
Sales Meetings
For dogs that don't like socializing with others, an office may not be the best location to take them!
If it is socially adept, take him with you for just a half-day at a time at first. As a result, it will gradually adapt to the new surroundings.
If you notice stress, don't force it, and don't keep insisting on it indefinitely.
Your dog's well-being is always more important than your desire to bring it into the office.
Prepare The Workplace For Dogs
Poisonous plants and electrical cables should be secured or removed from the work area.
Toxic products, materials, or cleaners can be found in inaccessible areas.
Make certain that there aren't any exits or dangers.
Make sure you have everything you think your dog could require in a suitcase or backpack:
Water and food
Hygiene bags for the manure
Water and food Hygiene bags for the manure
health card and leash
Balance Your Work and The Needs Of Your Dog
Take him out for a walk during his lunch break. Make sure the area where they sleep or/and eat is odor-free, fresh, and sanitary. The health and well-being of your dog as well as the future of close interactions with another workplace "colleagues" pets are at stake if it doesn't have up-to-date immunizations.