Employee appreciation day is on the 4th of March this year, which has suddenly become a holiday that businesses should take note of. It was possible in the past for bosses and employers to pass by this day unnoticed. When it comes to the Great Resignation, however, the value of each employee's contribution to the success of a company has been elevated.
Employees who don't feel like they belong are more likely to leave their jobs. As a result of this, individuals who have been praised at work in the recent month are just not so likely to be seeking a new position. That means appreciation might be a solution to turnover rates too. In the past period of time, we've been through the Great Resignation. In the light of the information at the next paragraph might the appreciation of employees be a solution for modern problems of business life?
In addition, the turnover rate is rising each year. In 2018, employee turnover was 27%, while in 2019 it was 36%. There has been an 88% rise in the turnover rate since 2010. Current research suggests that the cost of high turnover is only going to rise in the future. The United States is expected to have the biggest rise in turnover costs in 2022, according to estimates based on national employee turnover rates for 2022.
Why Celebrate Employee Appreciation Day?
Celebrating such a day gives the employer a space to think freely. Employees are now don't get satisfied easily. Not only a big salary is enough but they want to feel a part of something. They want to feel their contribution to the company. Especially after Covid19, people's home lives and office lives are intertwined. The illusion of plaza business is shattered and people are seeking something more real. By the illusion of plaza business, I mean: We used to go to work with an attitude. We used to wear special clothes and special make-ups only designed for work. We were wearing masks if I may say so. With the Covid19 that image we had built for years has joined with our sassy home style. People wore fancy clothes only to cover their upper body and they attended meeting in their home pants. So the illusion is off now!
We might have lost human connection for a while but that reminded us how important human interactions are. With that shift in our vision, we now have a broader awareness of why should we take care of each other. In the consideration of sudden illumination that Covid19 brings with itself "Employee Appreciation Day" is even more important than it has ever been.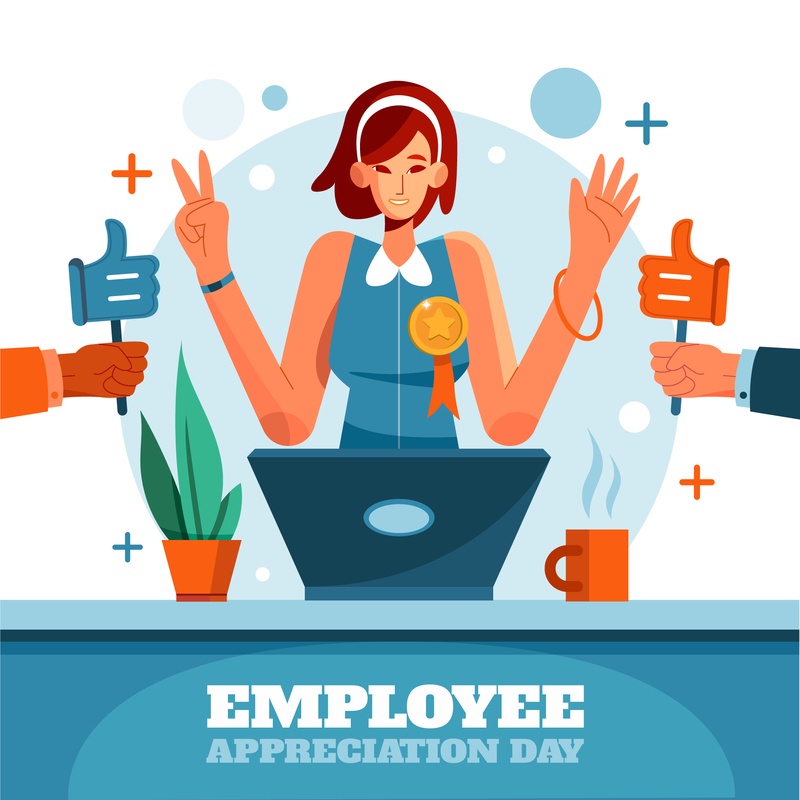 5 Ideas To Celebrate Employee Appreciation Day
Now that we know why it is important to celebrate employee appreciation day, now we can use some ideas that will help you to think of even better ones for that particular day. Here we have compiled 5 ideas you can use to celebrate Employee Appreciation Day.
Using Employee Feedback to Increase Appreciation
In order to show your employees that you appreciate them, you need to go both ways. Then again, no one has a better grasp on what drives your staff than they do. Asking your staff how they would want to be honored will help inform your appreciation efforts for them.
If you want to know which ideas are most popular among your staff, administer a poll through email. Allow your employees to cast votes for their preferred selections after collecting recommendations through comments.
Finally, knowing your staff and their priorities helps you involve them in the work environment and keep them motivated. Employee input is the first step.
Assist Them To Volunteering Activities
Do you know that %70 of Americans (according to Deloitte's research) believe that volunteering in activities boosts employee morale more than company activities? This activity doesn't even require people to step outside their homes. With only a click employees can volunteer in such activities as adopting a wild animal, supporting a local help center. If the team is living in the same city an activity like going to a shelter can also be arranged easily. Giving is the best way to satisfy our conscience.
Turn That Day Into A Week
With thousands of workers dispersed across several sectors and locations, it might be difficult to recognize each employee's accomplishments. Why not stretch out your yearly employee appreciation activities over the course of a week instead of cramming them all into one day? An annual week of employee appreciation is a great opportunity to show your company's employees how much you appreciate them. Some departments could benefit from having their work and people recognized on an individual day each week. Businesses are all about progress, yet the constant focus on the future might lead us to forget about our successes from the past.
Employee appreciation may look back at the year's successes and accomplishments to motivate your personnel for future success. Make sure to point out the significance of their effort and how it has aided in your present achievement. Celebrating your company's prior successes may also assist boost employee morale by allowing them to see their hard work mirrored in the company's future.
Happy Online Hour!
Coworkers around the globe can now celebrate and socialize through virtual happy hour events, which are growing more popular. Employee Appreciation Day is a chance for employees to celebrate their achievements in a casual setting. If you want to be successful in your company, you need to put together a group of people that can not only work together but also have fun. It's important to have fun together outside of the work topics since it helps your team feel more united when they return to work.
Invest In New Technology For Their Home Office
The equipment your workers use to work from home is probably not something you've checked in on in a while. Does their environment support their performance and effectiveness? Keeping your workers' workstations up to date is an excellent way to express your gratitude for their hard work. If you want to show your staff how much you appreciate them, a new desk, armchair, or screen might do the trick.