If your company is handing out Christmas or year-end presents, now is the time to get them in the mail or online. There are still a large number of employees that work from home. What are the needs of remote workers? What is the best way of Christmas celebration in the virtual office? Let's find out together!
It has passed over 1,5 years for some employees since they have first started working remotely. As time passes some of us have got used to working from home while others are still may struggling. Those struggles mostly include social aspects and lack of human interaction. Here are some ideas that you can use for those employees who are having a hard time coping with remote workplaces, especially at a time like Christmas!
Host a Virtual Christmas Party
Organizing a virtual event allows us to give a face to all the coworkers with whom we collaborate on a project but who are frequently unable to attend in person. There is no doubt that some individuals will miss the social aspects of working in an office, as well as the opportunity to socialize with coworkers and celebrate a special occasion together. After a few days of planning the company's marketing and commercial strategy, a virtual Christmas party is a wonderful idea. Party themes may be as varied as you like. More alternatives include sharing food, drink, and enjoyment with the most popular songs or other music selected by the public.
Consider Sending A Package That Contains Christmas Joy
Red and green colored Christmas decorations, Santa Clause trinkets, little Christmas trees can be options to put into this package. Sending your employees a warm blanket with Christmas themed pattern on it would make them feel cozy. They can use those blankets at the virtual Christmas party and at other times too! Other than that, chocolates may be a great option, next to some Christmas-themed sweets. Don't forget to think simple when it comes to Christmas. If an employee couldn't spend time with their coworkers and also if they couldn't visit their family those sweets are going to be a lifesaver!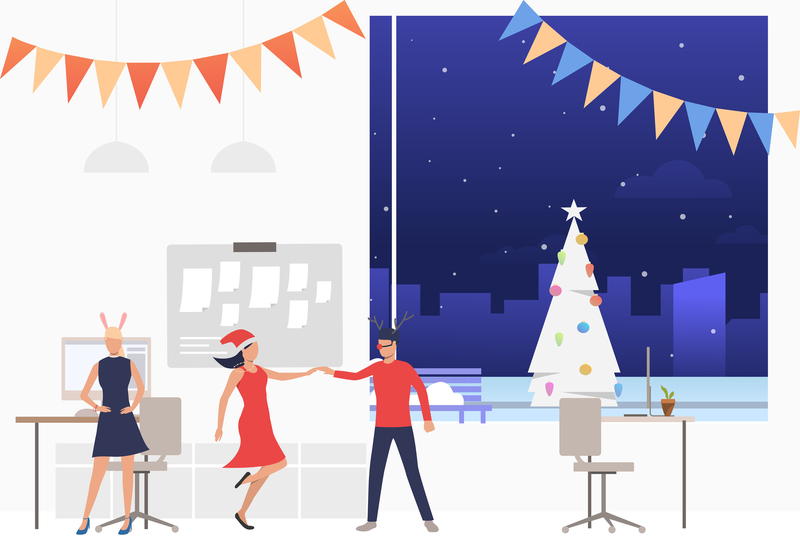 Sweepstakes Are Bonding
Organize an online sweepstake. By so every employee would have the opportunity to receive a gift from a coworker. If your company culture is based on sharing and supporting each other, therefore you would have taken a big step to feed the company culture. (Click to read our blog about company culture.) Set a minimum and maximum limit to the gift prices so people don't get confused about it. From the CEO to a team leader make all your employees and management participate in this event. This is the true spirit of Christmas. Ho ho ho!
Send Electronic Holiday Greetings To All Staff
When organizing a Christmas celebration in the virtual office, use the surprise element to create a fun and inspirational environment for your employees. Nothing can go wrong since you've got most of the details worked out. This is a great time to send out a traditional Christmas card and letter of instructions for a party that will be as memorable as it will be entertaining, so don't miss out on the chance to be creative with the invitation design.
Frankly saying that I know sometimes working remotely is depressing and as remote workers, we need those attractions. Don't hesitate about any ideas that you think would raise your and your coworker's mood. Go for it! Raise your mood one more time before entering 2022!